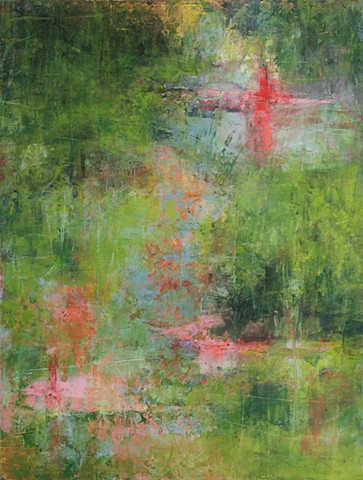 I love to play, experiment, and try new paint media, and I love abstraction. I have found my style and approach tends to vary according to the medium, although I'm always looking for the abstract in what I see around me--contrast, blocks of color, line, rhythm, pattern, and value.
I've painted abstractly for years, but I challenged myself to paint more representationally, and discovered plein air painting during COVID as a way to be out in the world and yet remain relatively safe health-wise. I use a limited palette in my plein air paintings and see what I can communicate with these limitations.
With plein air, I'm trying to work more representationally but also keep that sense of abstraction, so the paintings are as much about feeling as scene. I've taken to bringing my painting kit with me when I travel and make time to paint for at least a few hours at different destinations.
In my abstract work, I again often keep the palette limited to one or two colors, black, white and any number of mark making tools and see what emerges. Sometimes I have a bit of an idea in mind, but still start with the mark making dance before adding color, or developing the subject.